Welcome! I'm Phil Markey BSc (Hons), FRGS,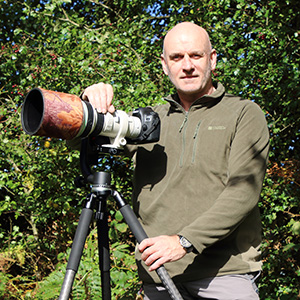 I'm a naturalist, nature photographer and qualified mountain leader based in Cornwall in the UK, but work with all nationalities to create outstanding wildlife holidays worldwide.
I've travelled through approximately 66 countries over 30 years, speak fluent Mandarin Chinese, well studied in the natural sciences and been specialised in botany for the past 20 years studying [Arecaceae], [Cycadae], [Musaceae], some gymnosperms and pteridophyta.
Nature Expeditions Ltd., is an ATTA accredited tour company, and conforms to the British Standard for adventurous activities outside the United Kingdom (BS 8848). Your booking with Nature Expeditions is also financially protected. I am ex-military, trained in leadership and logistics. I possess the full, and current ITC SQA accreditation certificate in outdoor first aid. I hold the Royal Geographical Society's Off-Site Safety Management certification. And hold a driving licence to drive any motor vehicle - I have driven through 37 countries on various expeditions, and have extensive experience driving buses, motorcycles, 4×4, 6×6 and 8×8 trucks through all terrains off-road. I also hold a PADI open water diving licence, and I am proud to say that I am awarded a Fellow of the Royal Geographical Society (FRGS) based on my expedition achievements worldwide.
I have been studying wildlife, especially birds, mammals and plants all my life. Over the years I have been lucky enough to have studied many of the world's rarest and most endangered animals and plants in their natural environments and I would very much like to share my knowledge and experience working with you as a leader, naturalist and photographer...
With many years experience leading expeditions for other ecotourism companies, scientific establishments and birding tours. Now, as a self-employed leader, and usually working solo I am able to offer you top quality wildlife tours with radically cheaper prices than any other ecotourism provider.
As I'm working alone, just me and my office staff I may not be able to offer such a large selection of tour destinations, but I off-set this by also offering my 'nature expeditions'. I still offer the more traditional, less strenuous & comfortable hotel type of tour or cruise but my nature expeditions by definition require at least some nights in hammocks or tents in true wilderness locations long distances away from any hotels where you have more chances of seeing wildlife and getting better photography in the morning and evening light.
Don't be put off! These are not necessarily more strenuous and can quite often involve hanging a hammock beside the car or a short stroll from it. However, as I am also a qualified mountain leader many of my nature expeditions include an optional mountain climb or trek tailored to your abilities. Each tour has a certain amount of flexibility so you can get the absolute most out of your holiday.
I can also put together bespoke expeditions to your requests, indeed this has been a key element of what I do for 15 years mainly for botanical plant-hunting and exploratory expeditions. I can also offer services as a fixer, location management and logistic services for film/TV productions www.location-solutions.tv, for this I specialize mainly in the UK and East Asia, but talk to me anyway I have many worldwide contacts. Anything you especially want to do, animals you want to try and see, remote off-the-beaten-track place you want to go...
Contact me to discuss your requirements.
Stay Informed! Don't forget to sign-up to my newsletter below.